I imagine that many of you are wondering what kind of companies Lanzadera is selecting. For this reason, this week I have been researching about it.
In January of this year 2022, Lanzadera selected 54 new startups to promote them.
Juan Roig's accelerator, which already exceeds 20 million investment, incorporates companies related to the metaverse, the 'blockchain' or artificial intelligence.
Lanzadera, the startup accelerator belonging to Marina de Empresas and promoted by the businessman Juan Roig, has selected new teams for its January call. These are 54 'startups' that innovate in current areas such as the metaverse, the 'blockchain', artificial intelligence or in sectors such as health, sustainability, fashion, industry, education and design, among others.
"Innovation in the world of entrepreneurship is going very fast, driven by digitization that has also accelerated. This is reflected in the companies we have selected, which stand out for their ability to add value with their solutions", explained Javier Jiménez, general director of Lanzadera.
Since its foundation in 2013, Lanzadera has promoted nearly 900 startups and has provided more than 20 million euros in loans. Depending on their needs, the selected companies can receive from aid of 1,000 euros to financing worth of 500,000 euros.
Each startup is promoted in one of the four phases that the program consists of: the Scale Up phase, for mature startups that have a proven and profitable model but need help to reach new goals; the Growth phase, to promote companies with potential but that seek faster growth; the Traction phase, for companies in the initial phase; and the Start phase, for entrepreneurs who are still shaping their project.
In addition, some of the startups selected in this call will collaborate with large companies through Lanzadera Corporate agreements.
Among those selected are companies such as Blueplasma Power converts waste such as plastics, biomass, foams, oils into products with high added value thanks to its gasification technology; Cubretartas, which has developed a product that allows candles to be blown hygienically and safely; Foot Analytics, which provides any physical space with reliable and real-time information on traffic, capacity and people's behaviour; or Lateua, which creates 3D homes so that people don't have to imagine what their house will look like before carrying out a remodel or a change in decoration.
Also, Proteus Innovation, which develops unmanned boats to digitize the aquatic sector. His first device is a surface marine drone designed to carry out rescues in the water. Or Sensei, who allows physical store buyers to pay automatically, in their mobile app, without having to waste time scanning products or queuing. This last startup will participate in the Mercadona Corporate.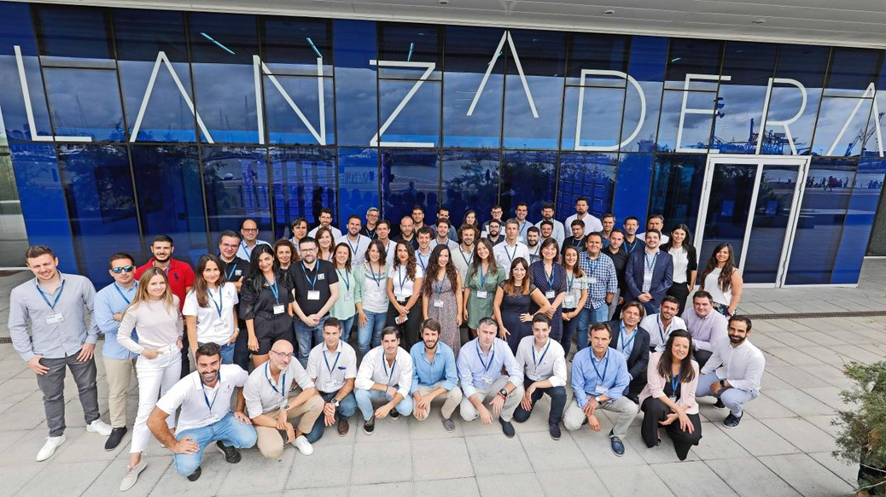 To give you a better idea, here is a list of some of the 70 companies that were selected last year.
-Brava Fabrics: It is a sustainable fashion brand that designs and sells through physical stores and its e-commerce. It offers fashion products for men and women.
-Hundred: Hundred is a chain of burgers. They bake the bread every morning and mince the meat daily to offer the best burgers at the best price.
-Goin: It is a platform that offers the user the possibility of obtaining the financial objectives set in a fast, agile and worry-free manner.
-Prontopiso: is a digital platform for real estate agents that allows them to digitize operations and focus on serving sellers and buyers.
-Synerise: It helps companies, through artificial intelligence, to become data-driven businesses by integrating customer data and their interactions across different channels.
-Criptan: allows its users, through the crypto ecosystem, to buy and sell, send and receive, cryptocurrencies in a very simple way, when and where they want, and be real owners of their money.
– Genetracer Biotech: It is a biotechnology startup specialized in early cancer detection and precision personalized medicine, through artificial intelligence and genomics.
– HR Bot Factory: It brings technological innovation closer to people management, designing virtual assistants to digitize processes such as recruitment or communication with employees.
– Minimalism: is an ecommerce of basic and sustainable fashion products. With affordable prices and manufactured in Portugal and Spain, their products do not have logos or brands.
– Miss Tipsi: it is a software that helps hoteliers to obtain greater profitability from their business. This comprehensive management system for hospitality is based on a SaaS model.
– Tugesto: is an online consultancy for companies and freelancers that offers the services of a team made up of lawyers, advisors, financiers, computer scientists and communication professionals.
– AcceXible: is a platform for the detection and monitoring of diseases through speech analysis. They detect with an accuracy of 93% if a person suffers from cognitive impairment.
– Deep Detection: has developed a multispectral X-ray camera for the food industry, capable of detecting plastic in food. Participate in the Corporate of Mercadona.
– Feelit: commercialize candles, hand creams and aromatic soaps, reminiscent of memories. Use natural and vegan ingredients; and carries out sustainable production with Spanish suppliers.
-Tuilus: is a footwear and accessories brand.
– Tuspeaking: It is a company specialized in online language learning for companies, through a platform to converse with native teachers.